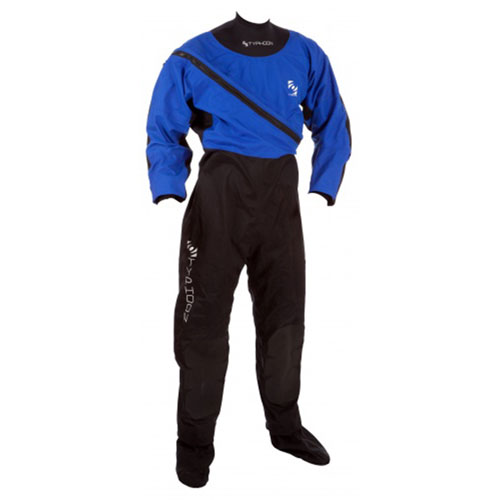 Typhoon Ezeedon Drysuit with Latex Socks
Another first in the world of drysuits is our Ezeedon zip position. As the name suggests it is simply the easiest front entry suit in the world to put on. It also offers the longest possible life span for the zip by reducing stress on it during donning and doffing. Our new zip position also eliminates discomfort when bending forwards as well improving fit. The blue/black colour way is new for 2012.



Quad Ply breathable fabric throughout


Ezeedon front zip with cover


Glide skin seals on neck and wrists


Pre bent arms and legs


Elasticated waist


PU Reinforced knees and seat


Fabric socks


Internal braces


Metal tooth BDM zip



Sizes : JNRXL, XS, S, SM, M, MB, LM, L, LB, XL, XXL, MTM (Made To Measure - surcharge applicable - please call 01285 7137735 for details) - please follow link to Typhoon's website for size chart
Description
Another first in the world of drysuits is our Ezeedon zip position. As the name suggests it is simply the easiest front entry suit in the world to put on. It also offers the longest possible life span for the zip by reducing stress on it during donning and doffing. Our new zip position also eliminates discomfort when bending forwards as well improving fit. The blue/black colour way is new for 2012.
Quad Ply breathable fabric throughout
Ezeedon front zip with cover
Glide skin seals on neck and wrists
Pre bent arms and legs
Elasticated waist
PU Reinforced knees and seat
Fabric socks
Internal braces
Metal tooth BDM zip
Sizes : JNRXL, XS, S, SM, M, MB, LM, L, LB, XL, XXL, MTM (Made To Measure - surcharge applicable - please call 01285 7137735 for details) - please follow link to Typhoon's website for size chart
See also...